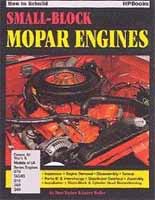 HP Books Repair Manual for 1968 - 1969 Dodge Charger
The sporty Dodge Charger were made from 1966 to 1974 and had high performance options. The largest muscle car made in the 1970s was the Dodge Charger R/T.
One interesting feature was the disappearing headlights. The headlights were fully rotating and were hidden in the grille. The seats inside the car were individual bucket seats with the back seats able to fold down giving lots of space for your stuff.

The 1968 Dodge Charger was probably the best-looking Charger made with its round taillights, fastback design and smooth lines. The bucket seats were replaced with regular seats and a vinyl mat replaced the original carpet. This car is second to the 1969 Dodge Charger wanted by collectors and car enthusiasts.

On this page you will find Dodge Chargers for Sale plus service manuals and parts. 1969, 1968, 1970, 1966, 1971, 2005 and all years Plus Dodge Charger Parts, Engines, Body Kits, Rims, Repair Manuals and more.