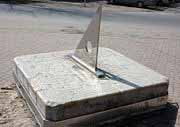 Sundial near the Old Depaldo Stairway in Taganrog, Russia. Photo taken by Alexandre Mirgorodski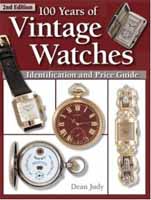 100 Years of Vintage Watches: Identification and Price Guide
The first watch was invented in the 16th century. It was a spring driven clock that was big and boxy and was worn around the neck. It wasn't unit the next century that watches were carried in pockets called Pocket watches.

The widespread use of the pocket watch came about because of the railroad. To prevent train wreaks and other accidents the railroad workers had to have accurate time, so pocket watches became required.

A famous train wreck on the Lake Shore and Michigan Southern Railway in Kipton, Ohio on April 19, 1891 happened because one of the engineer's watches had stopped for 4 minutes. This led to steps taken to have standards for railroad grade watches. In 1893 the General Railroad Timepiece Standards was mandated. The standards required the watch to be open faced, size 16 or 18, have a least 17 jewels, be accurate to within 30 seconds a week and more. The change to the diesel electric locomotive in the 1940's required a watch that could not be affected by electromagnetic fields.

A pocket watch or pocketwatch is a analog watch carried in a pocket. Usually strapless, they may be secured to a waistcoat, lapel, or belt loop by chain/ornament fasteners (called fobs) that may be designed to connected through a button hole, that is worn in a jacket or waistcoat, and many times coped after the style of train conductors.