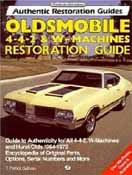 Oldsmobile 442 and W-Machine: Restoration Guide
The Oldsmobile 442 excelled at racing. The auto magazine "Car Life" tested the 442 and found it had a 0.60 time of 6.3 seconds with a quarter mile of 14.8 seconds at 97 miles per hour or 156 km/h.

The 422 engines are painted a copper/bronze color with a fire red air cleaner on top. So they looked the part besides running well in races. Oldsmobile 442 had it best performance in 1970. It had an Olds 455 V8 engine and became the pace car for the Indianapolis 500 race that year. It also became the most popular super car for GM at that time.

On this page you will find a lot of Oldsmobiles 422 for sale, besides service manuals and parts. Included are the 1964, 1965, 1966, 1976, 1968, 1970, 1967, 1977 model years. Oldsmobile 442 w 30 also available. Toronado, Starfire models Includes 455, 1950, 1958, 1957, 1947, 1955.